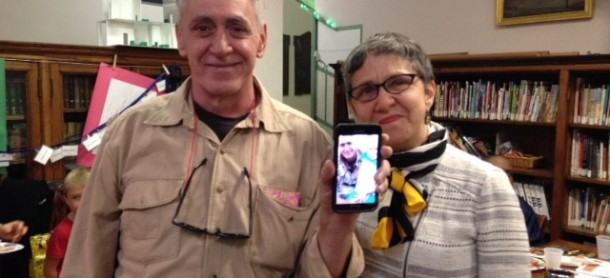 Happy September, and welcome back to those of you who spent all or parts of the summer elsewhere. We have a busy month of worship activities, and we welcome our new Transitional Pastor, Rev. Stephen Phelps. Always, we cherish times spent together. Please join us as often as you can, and invite others to share in our fellowship.
Whether you are a longtime or new member, or are considering making Second Presbyterian your spiritual home, we hope you will find ways to engage with us. Please call the church office at 212.749.1700 or speak to any church member if you have questions.
Worship 
We seek God and practice a welcoming faith in our community, treasuring our times together in God's presence.
We worship on Sundays at 10:15 a.m. in the Sanctuary. Children leave for Sunday School at 10:30 a.m. with their teacher, Pamela Hahn. Following worship (11:30 a.m.), we gather for Coffee Hour in the Carnegie Library.
All members of the congregation are encouraged to assist with worship as lector, beadle, greeter, or offering collector. Please see our Worship Coordinator for September, Elaine Song, if you'd like to assist. Our Coffee Hour coordinator for September is Janet Brown.
Sunday, September 10: Worship, 10:15 a.m. in the Sanctuary; Rev. Stephen Phelps preaching; Barbara Winn and Susan Gordon-Clark, guest musicians.
Sunday, September 17: Worship, 10:15 a.m. in the Sanctuary; Rev. Stephen Phelps preaching; Kathryn Schneider, guest musician.
Sunday, September 24: Worship, 10:15 a.m. in the Sanctuary; Rev. Stephen Phelps preaching; Susanna Nason, guest musician.
Sunday, October 1: World Communion Sunday with the Chinese Congregation Church, 11:00 a.m. in the Sanctuary. Luncheon follows; we are responsible for desserts.
Holy Communion in 2017:
Sunday, January 8: Baptism of the Lord
Sunday, February 26: Transfiguration of the Lord
Wednesday, March 1: Ash Wednesday
Sunday, April 9: Palm Sunday
Thursday, April 13: Maundy Thursday
Friday, April 14: Good Friday
Sunday, June 4: Pentecost
Sunday, June 11: Trinity Sunday
Sunday, October 1: World Communion Sunday
Sunday, November 26: Reign of Christ
Meetings
Members Ministering to Each Other: September 24, 11:45 a.m., upstairs classroom.
Session: TBD.
Choir rehearsal: There will be no choir rehearsal in September. The choir is seeking new members. Please speak Susan Gordon-Clark of the Worship and Music Committee if you're interested in learning more.
Events 
Party Honoring Rev. Leslie Merlin: Tuesday, October 3, 5:00—7:30 p.m., at Acqua Restaurant (718 Amsterdam Avenue @ 95th Street). We gather with members of the larger community of church, school, and clergy friends who have been touched by Leslie. Look for an invitation via email/mail; RSVP by September 30.
Memorial Service for Mimi Lewis (Bram Lewis's mother): Saturday, October 7, 2:00 p.m.
Music at Second Church: Something to Sing About
We will soon welcome our new Minister of Music, Eunjung Ahn, who will begin her service with us October 2. Many of you remember meeting her and her family when she was our guest musician last spring. During September we will hear special music during the interlude between the children's sermon and the main sermon.
Search for New Pastor/The Transition
The process of calling a Pastor to lead our flock will occur in several stages. Our Transitional Pastor, Rev. Stephen Phelps, began serving September 1. He will serve for an estimated 4-6 month period. The next stage will be formation of an Interim Pastor Search Committee. Stay tuned for updates.
Community Service/Giving
Visits to Bedford Hills Prison: Our desire to be of comfort in a world of pain leads us into prison, a place of sorrow and despair. We have partnered with Gethsemane Presbyterian Church on its visits to women in Bedford Hills Prison and Taconic Prison. The women we visit are participants in Gethsemane Church's "Project Connect", as they work to develop a life of spiritual health. The visits remaining in 2017 are:
Saturday, September 16
Saturday, December 2