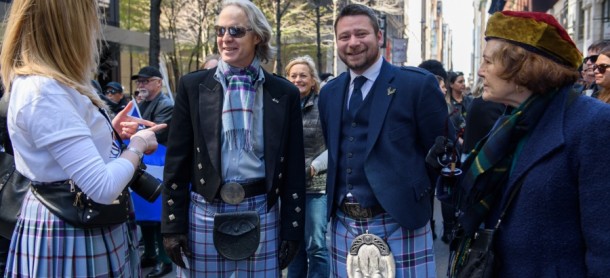 Spring is in full flower, and we have much to celebrate in May and June! Always, we cherish times spent together in worship, fellowship, and reflection. We seek God and practice a welcoming faith in our community. We treasure our times together in God's presence. Please join us as often as you can, and invite others to share in our fellowship.
We worship on Sundays at 10:15 a.m. in the Sanctuary, followed by Coffee Hour in the Carnegie Library. We invite all members and friends to join us in worship and fellowship.
Whether you are a longtime or new member, or are considering making Second Presbyterian your spiritual home, we hope you will find ways to engage with us. Please contact the church office at 212.663.6441 or speak to Pastor Leslie Merlin or a member if you have questions.
Worship Schedule
We worship on Sundays at 10:15 a.m. in the Sanctuary. Children leave for Sunday School at 10:30 a.m. with their teacher, Pamela Hahn.
All members of the congregation are encouraged to assist with worship as lector, beadle, greeter, and offering collector. Please see our Worship Coordinator for May, Nancy Hughes, if you'd like to assist.
Sunday, May 7: Worship, 10:15 a.m. in the Sanctuary, Leslie Merlin preaching, Kristen Cho, musician.
Tuesday, May 9: Tuesday at Prayer, 11:30a.m. in the Sanctuary, followed by lunch.
Wednesday, May 10: Midweek Taizé evening service of song, silence, and prayer, 6:00 p.m. in the Sanctuary. Services are the second Wednesday of each month.
Sunday, May 14, Mothers' Day: Worship, 10:15 a.m. in the Sanctuary, Leslie Merlin preaching, Eunjung Ahn, musician.
Sunday, May 21: Worship, 10:15 a.m. in the Sanctuary, Leslie Merlin preaching.
Sunday, May 28: Worship, 10:15 a.m. in the Sanctuary, Leslie Merlin preaching.
We celebrate Holy Communion  on the following dates in 2017:
Sunday, January 8: Baptism of the Lord
Sunday, February 26: Transfiguration of the Lord
Wednesday, March 1: Ash Wednesday
Sunday, April 9: Palm Sunday
Thursday, April 13: Maundy Thursday
Friday, April 14: Good Friday
Sunday, June 4: Pentecost
Sunday, June 11: Trinity Sunday
Sunday, October 1: World Communion Sunday
Sunday, November 26: Reign of Christ
Meetings
Choir Rehearsal: Wednesdays, May 3, 10, 17, 24, 31, 6:00 or 6:30 p.m., Carnegie Library. Mary Thorne is leading the choir as we begin the search for a new Minister of Music.
Minister of Music Search Committee: Thursdays, May 4, 11, 18, 25, 3:00 p.m., Pastor's Office/Sanctuary.
Session: Monday, May 15: 6:00 p.m., Headmaster's office.
Trustees: Tuesday, May 16: 6:00 p.m., Pastor's office.
Events 
Reformation 500: Wednesday, May 17, 7:00 p.m., Holy Name of Jesus Roman Catholic Church, West 96th Street at Amsterdam Avenue. In an inspired role reversal, we have been graciously invited by the Church of the Holy Name of Jesus – Saint Gregory the Great parish to a service of evening prayer to commemorate the 500th Anniversary of the Reformation! Holy Name of Jesus is a Roman Catholic parish in the Franciscan tradition. Their letter of invitation reads, in part, "St. Francis of Assisi befriended the creation and his brothers and sisters with a greeting of peace. In that spirit of peace we look forward to celebrating 'Reformation 500' with you and to seeing in this event the fruit of widespread and longstanding ecumenical conversations." Following a service, there will be a reception in St. Mary of the Angels Chapel in the lower church.
Alexander Robertson School Talent Show: Thursday, May 18: 6:00 p.m., ARS gym.
Thrive NYC Weekend of Faith: Friday – Sunday, May 19-21. New York City's second annual Mental Health Weekend is sponsored and spearheaded by First Lady of NYC Chirlane McCray and her team. This year the focus is on addiction and substance abuse. To participate we simply make a commitment to speak about mental health during worship that weekend. It is a topic well worth our consideration, compassion and action.
Harold Stover Organ Recital to Benefit Alexander Robertson School and Second Presbyterian Church: Sunday, May 21, 4:00 p.m in the Sanctuary. Renowned and revered Second Presbyterian Church former organist and choir master Harold Stover will give a benefit concert on behalf of Alexander Robertson School. He will play selections from Bach, Mendelssohn, Saint-Saens, and his own compositions.
Sponsorship tickets (2 reserved seats with corporate or family name mention in the program) are $150, suggestion donation for general admission is $20, and children under 12 are invited for free. A reception will be held in the Carnegie Library after the concert.
Upcoming/Save the Dates:
Alexander Robertson School presents Jonah, an original musical by Merlin/Sanner: Friday, June 9, 9:00 a.m., in the Sanctuary.
Worship Service Led by the Congregation: In honor of Leslie's years of service, the congregation will lead worship on Sunday, June 11, at 10:15 a.m.
Leslie's final Sunday worship with us will be Sunday, June 25, followed by a catered lunch in the Carnegie Library. After Labor Day, we will have a cocktail party for Leslie on the Upper West Side.
Updates
Music Search Committee
The Music Search Committee, appointed by the Session and chaired by Susanna Nason, consists of Elaine Steele, Susan Gordon-Clark, Ken Threet, Susanna Nason, and Leslie Merlin (ex officio). The committee posted a job description in various places, including the Juilliard School of Music, Yale Divinity School of Sacred Music, Union Theological Seminary, Westminster Choir College, and Diller Quaile Music School, and via many professional musicians of our acquaintance. If you have suggestions, please mention them to any of the committee members. We are also listening to the musicians at Sunday worship; most have applied for the position.
Search for New Pastor/Preparing for the Transition
Over the winter, the Session began the process of our search for a new Pastor. Leslie met with the Executive Presbyter and other knowledgeable members of Presbytery (which oversees each congregation's "call" process) to begin to gather information. Representatives of the Session met with the Presbytery Committee on Ministry.
When the time comes, the process for finding a new pastor will include the congregation, the Presbytery, the candidate, and most of all, God. That process will begin in earnest after Leslie's retirement in September. For now, the Session is preparing to find a temporary preacher and moderator of the Session to fulfill the needs of the church during the months immediately after Leslie's last day until we find an interim pastor. The interim pastor would then serve until the congregation completes its mission review and search for an installed pastor. We are currently working on two fronts: 1) Preparing a job description for an interim pastor (the job description will be reviewed by the New York City Presbytery); 2) Seeking candidates who will be available to serve as a temporary preacher and moderator until we find an interim pastor. Candidates considered for service as a temporary preacher and moderator might be asked to serve as guest preachers during July and August. The Session hopes to approve the temporary preacher and moderator during the summer. The Session will also create a search committee for an interim pastor.
Guiding us through this process will be our liaison to the Committees on Ministry (COM) of the New York City Presbytery, Sharon Davison. Sharon is an elder at Madison Avenue Presbyterian Church and a member of the COM. She served on the pastor nominating committee for her church and knows a lot about our church and neighboring congregations.
Planning Ahead, Strategically
Since 2011, the Strategic Planning Committee has been a vehicle for bringing vitality to the life of the church. There have been efforts to connect with the larger community and celebrate our members. The committee composed a new mission statement, hosted activities, wrote new banners to display on 96th Street, coordinated social justice programs, led stewardship campaigns, and organized "Shine a Light" presentations.
In 2017, as the priorities of the church move to the search for an organist/minister of music and preparations to search for a new pastor, the committee sees the need for the focus of active leaders and members to be on those efforts. The committee will suspend meeting as all of us regroup and define the needs for these two major endeavors.
Ministering to One Another With Skill, Help, and Support
Ongoing pastoral care is something our congregation may want to actively address during the months of pastoral transition ahead. Our congregation has a great will to be loving; strong pastoral care and communication help us all support and pray for one another. Those inclined to develop skills that can provide active care may be interested in pursuing a program called Stephen Ministry. This is an international, not-for-profit, educational organization, a lay caregiving system, now used in over 12,000 congregations in the U.S. and 30 other countries. The training gives people the confidence to listen, care appropriately, pray, and walk with people as long as needed, as an extension of God's mercy and grace. Those who are interested will gather, on a date yet to be determined, for an informal discussion of what person-to-person pastoral care, and the Stephen Ministry, entail. If you would like to participate, please speak with Leslie Merlin or Elaine Song.
Community Events
24th Precinct Community Meeting on immigration policies/rights: Tuesday, May 2, 7:00 p.m., Carnegie Library.
Peace Action Manhattan Forum: Nuclear Famine–the Threat to Humanity from Nuclear Weapons, Dr. Alan Robock, Professor, Rutgers University department of environmental sciences. Thursday, May 4, 7:00 p.m., Goddard-Riverside Community Center, 593 Columbus Avenue.
Ebony Ecumenical Ensemble 38th Anniversary Concert: Saturday, May 6, 7:00 p.m., First Corinthian Baptist Church, 1912 Adam Clayton Powell Blvd. (West 116th Street); free will offering.
Fort Washington Community Choir Concert: Tuesday, May 9, 8:00 p.m., Fort Washington Collegiate Church, 729 West 181st Street, Handel, Copland, Schubert, and more, with SPC's own Susan Gordon-Clark. Free.
Visits to Bedford Hills Prison: Our desire to be of comfort in a world of pain leads us into prison, a place of sorrow and despair. We have partnered with Gethsemane Presbyterian Church on its visits to women in Bedford Hills Prison and Taconic Prison. The women we visit are participants in Gethsemane Church's "Project Connect", as they work to develop a life of spiritual health. The visits remaining in 2017 have been scheduled:
Saturday, May 13, 8:00 a.m.
Saturday, June 17
Saturday, September 16
Saturday, December 2