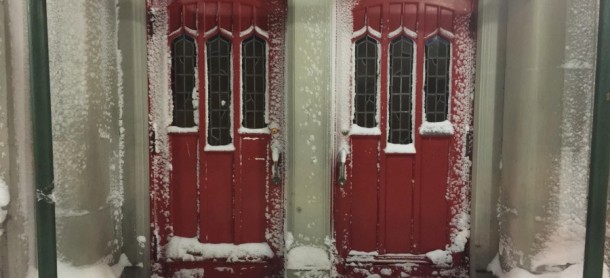 Happy New Year, as we celebrate the start of another year together and with God and Christ. We continue to grow as a congregation with our Transitional Pastor, Rev. Stephen Phelps, and our Minister of Music, Eunjung Ahn. Always, we cherish times spent together. Please join us as often as you can, and invite others to share in our fellowship.
Whether you are a longtime or new member or are considering making Second Presbyterian Church your spiritual home, we hope you will find ways to engage with us. Please call the church office at 212.749.1700 or speak to any church member if you have questions.
Worship 
We seek God and practice a welcoming faith, treasuring our times together in God's presence. We worship on Sundays at 10:15 a.m. in the Sanctuary. Children leave for Sunday School at 10:30 a.m. with their teacher, Pamela Hahn. Following worship (11:30 a.m.), we gather for Coffee Hour in the Carnegie Library.
All members of the congregation are encouraged to assist with worship as lector, beadle, greeter, or offering collector. Please see our Worship Coordinator for January, Elaine Steele, if you'd like to assist. 
Sunday, January 7: Worship, 10:15 a.m. in the Sanctuary, with Holy Communion; Rev. Stephen Phelps preaching; Eunjung Ahn, Minister of Music.
Sunday, January 14: Worship, 10:15 a.m. in the Sanctuary. Rev. Stephen Phelps preaching; Eunjung Ahn, Minister of Music.
Sunday, January 21: Worship, 10:15 a.m. in the Sanctuary; Rev. Stephen Phelps preaching; Eunjung Ahn, Minister of Music.
Sunday, January 28: Worship, 10:15 a.m. in the Sanctuary; Rev. Stephen Phelps preaching; Eunjung Ahn, Minister of Music. Annual Congregational Meeting to follow (see below).
Holy Communion in 2018
Sunday, January 7 – Baptism of the Lord (intinction)
Sunday, February 4 – First Sunday of February (in the pews)
Wednesday, February 14 – Ash Wednesday (intinction)
Sunday, March 25 – Palm Sunday (in the pews)
Thursday, March 29 – Maundy Thursday (intinction)
Sunday, May 20 – Pentecost (in the pews)
Sunday, June 17 – Third Sunday of June (intinction)
Sunday, September 9 – First Sunday after Labor Day (intinction)
Sunday, October 7 – World Communion Sunday, with Chinese Community Church (in the pews)
Sunday, November 25 – Reign of Christ (intinction)
Sunday, December 9 – Second Sunday of Advent (in the pews)
Meetings
The Annual Congregational Meeting of the Congregation and Corporation of Second Presbyterian Church will be help Sunday, January 28, 2018, directly following worship for the purpose of receiving reports of committees and boards, electing ruling Elders, Deacons, and Trustees, reviewing the budget, and such other business as may properly come before the meeting. Please bring finger foods to share.
Session and Trustees: TBD.
Choir rehearsal: Wednesdays, January 3, 10, 17, 24, 31 at 7:00 p.m. in the Carnegie Library, with Minister of Music Eunjung Ahn. Please speak to Eunjung, or email her at ejahn [at] secondpresbyteriannyc [dot] org to learn more.
We will bring the chimes back to worship in February. Please contact Minister of Music Eunjung Ahn if you'd like to participate.
Events 
Update on Interim Pastor Search
by Nancy Hughes, Clerk of Session
The Interim Pastor Nominating Committee, on which I sit with Clayton Young and Neal Boswell, has been meeting weekly since September. So far, we have received 39 applications – 21 "matched" to our position by PC(USA)'s online job bank, and 18 self-referred. In our first round of review, we eliminated 20 applicants based on information on their resumes or Pastor Information Forms (PIFs). Pastors with no experience as an interim, little familiarity with small or urban congregations, and those not yet ordained were rejected quickly. One candidate withdrew when she received another job.
We next began a more in-depth look at the remaining applicants, listening to sermons, reading blog posts, searching Google for anything that would help us discern elements of style, skill, and faith, to help us determine whom we should interview. As of late October, we have narrowed the list down to 12 hopefuls, from whom we expect to select about half for interviews with the committee. We are starting to conduct those interviews.
The interim search process began last summer, while we were engaged in the search for a short-term, part-time pastor and moderator, to start immediately upon Rev. Leslie Merlin's retirement at the end of August. That search resulted, most happily, in our call to the Rev. Stephen Phelps as Transitional Pastor. At that time, session also approved a job description for a full-time Interim Pastor. Like the Transitional Pastor, the Interim will be chosen by the session. In contrast, our installed pastor will be chosen by the congregation. A significant part of the Interim Pastor's job is to guide the congregation through a process of reflection, or mission study, to prepare the way for the new installed pastor.
The diversity and life stories of applicants are fascinating – many heard the call to ministry in mid-life, and come from a wide assortment of careers and backgrounds. Many are converts to Presbyterianism from other denominations. An interesting side benefit to the screening process is getting to look at videos of different styles of worship.
Our Presbytery COM liaison, Sharon Davison, has been an invaluable resource and support. As she reminds us, the selection of a pastor involves the search committee, the Presbytery, the candidate, and God. Interested candidates can self-refer online through the PC(USA) CLC website, or by contacting the search committee directly, Nancy Hughes, (212) 288-5765, nhughescsw [at] aol [dot] com.
Pastoral Care During the Transition
During this period of transition, Nancy Hughes, Karen Amrhein, and Elaine Song will serve as contact people for members and regular attendees to call when there is an immediate need to be shared. Examples of needs are hospitalizations, surgeries, deaths, or crises for church members or their family members. When contacted, Nancy, Elaine, or Karen will then learn how we as a congregation may best help someone and learn what information may be shared with Steve Phelps and with our congregation. The idea of having contact numbers was thought of at a meeting we had on ministering to each other in September. During this meeting, we discussed the importance of supporting each other.
Other News
Josephine Jones, who joined our church in 1961, serving as deacon and elder, is the subject of a recently released biography by her daughter, Wendy Jones: An Extraordinary Life: Josephine E. Jones, Ida Bell Publishing, 2017.