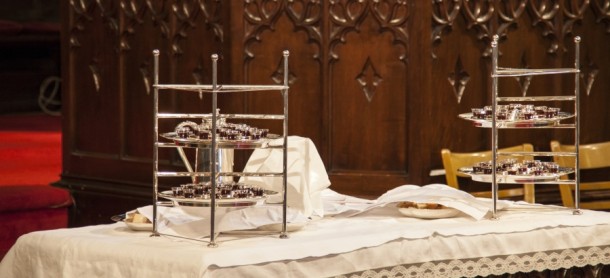 This month we celebrate Holy Week. Always, we cherish times spent together in worship, fellowship, and reflection. We seek God and practice a welcoming faith in our community. We treasure our times together in God's presence. Please join us as often as you can, and invite others to share in our fellowship.
We worship on Sundays at 10:15 a.m. in the Sanctuary, followed by Coffee Hour in the Carnegie Library. We invite all members and friends to join us in worship and fellowship.
Whether you are a longtime or new member, or are considering making Second Presbyterian your spiritual home, we hope you will find ways to engage with us. Please contact the church office at 212.663.6441 or speak to Pastor Leslie Merlin or a member if you have questions.
Worship Schedule
We worship on Sundays at 10:15 a.m. in the Sanctuary. Children leave for Sunday School at 10:30 a.m. with their teacher, Pamela Hahn.
All members of the congregation are encouraged to assist with worship as lector, beadle, greeter, and offering collector. Please see our Worship Coordinator for April, Susan Gordon-Clark, if you'd like to assist.
April 2, fifth Sunday in Lent: Worship, 10:15 a.m. in the Sanctuary; Leslie Merlin preaching; Andrew von Gutfeld, guest musician.  
April 9, Palm/Passion Sunday: Worship, 10:15 a.m. in the Sanctuary; Leslie Merlin preaching. We begin our service in the Carnegie Library with a procession led by Colin Nesbit, piper, and Kathryn Schneider, musician. Holy Communion. Agape potluck luncheon in the Carnegie Library following worship.
Tuesday at Prayer: April  11. Second Tuesday of each month, 11:30 a.m. in the Sanctuary, lunch following.
Midweek Taize evening service of quiet and song, April 12, 6:00 p.m. Services are the second Wednesday of each month, 6:00 p.m. in the Sanctuary.
Maundy Thursday, April 13: Service with Holy Communion and Tenebrae in the Sanctuary, 7:00 p.m. Dr. Sean Jackson, musician.
Good Friday, April 14: Sanctuary open for prayer, 12:00 noon-2:00 p.m. Holy Communion.
April 16, Easter Sunday: Festival worship, 10:15 a.m. in the Sanctuary; Leslie Merlin preaching; Kathryn Schneider, musician.
April 23, second Sunday of Easter: Worship, 10:15 a.m. in the Sanctuary; Mark Adamy, musician.
April 30, third Sunday of Easter: Worship, 10:15 a.m. in the Sanctuary; Mark Adamy, musician.
Andrew von Gutfeld is our guest musician on April 2. Andrew was born in NYC and grew up in a musical family. He studied organ with Dorothy Papadakos at the Cathedral of St. John the Divine NYC and gave two organ solo recitals on the Cathedral Great Organ while in high school. He has performed music at church services since he was in grade school, and has directed music at churches on the East and West coasts of the U.S.He also has considerable experience performing music in synagogues. Andrew is a prolific composer of traditional and contemporary music.
We celebrate Holy Communion  on the following dates in 2017:
Sunday, January 8: Baptism of the Lord
Sunday, February 26: Transfiguration of the Lord
Wednesday, March 1: Ash Wednesday
Sunday, April 9: Palm Sunday
Thursday, April 13: Maundy Thursday
Friday, April 14: Good Friday
Sunday, June 4: Pentecost
Sunday, June 11: Trinity Sunday
Sunday, October 1: World Communion Sunday
Sunday, November 26: Reign of Christ
Meetings
Choir Rehearsal: Wednesdays, April 5, 12 (7:00 p.m.), 19, 26 at 7:30 p.m., Carnegie Library. Mary Thorne is leading the choir as we begin the search for a new Minister of Music.
The Session, at its March 27 meeting, received and accepted the letter of resignation/ retirement, effective September 1, of Leslie Merlin as Pastor of Second Presbyterian Church and Pastor to Alexander Robertson School. In accord with The Book of Order and Presbyterian polity, the Session now calls a pro re nata Congregational Meeting for Sunday, April 23, during coffee hour, so that the congregation may do likewise.
Events 
Alexander Robertson School Spring Fling Fundraiser: Thursday, April 6, 6:00 p.m., Carnegie Library and ARS gym.
Annual Agape Potluck Luncheon, Palm Sunday, April 9: 11:30 a.m. in the Carnegie Library. All are welcome! Set-up will be Saturday, April 8.
Save the date: Harold Stover will give a benefit concert for Alexander Robertson School and Second Presbyterian Church on Sunday, May 21. Details coming soon!
Updates
Music Search Committee
The Music Search Committee, appointed by the Session and chaired by Susanna Nason, consists of Elaine Steele, Susan Gordon-Clark, Ken Threet, Susanna Nason, and Leslie Merlin (ex officio). The committee has posted a job description in various places, including the Juilliard School of Music, Yale Divinity School of Sacred Music, Union Theological Seminary, Westminster Choir College, and Diller Quaile Music School, and via many professional musicians of our acquaintance. If you have suggestions, please mention them to any of the committee members. We are also listening closely to the musicians who are substituting for us Sunday mornings. Most of them have applied for the position.
Search for New Pastor
The Session has begun the process of our search for a new Pastor. Leslie met with the Executive Presbyter and other knowledgeable members of Presbytery to begin to gather information. Representatives of the Session met with the Presbytery Committee on Ministry. We asked a lot of questions. It's the Presbytery that oversees each congregation's "call" process, so they have a lot to offer. You will hear more and more about this process as we move forward. The first assignment for everyone is to embrace the change and work together to discern new direction. It's an exciting moment.
Planning Ahead, Strategically
Since 2011, the Strategic Planning Committee has been a vehicle for bringing vitality to the life of the church. There have been efforts to connect with the larger community and celebrate our members. The committee composed a new mission statement, hosted activities, wrote new banners to display on 96th Street, coordinated social justice programs, led stewardship campaigns, and organized "Shine a Light" presentations.
In 2017, as the priorities of the church move to the search for an organist/minister of music and preparations to search for a new pastor, the committee sees the need for the focus of active leaders and members to be on those efforts. The committee will suspend meeting as all of us regroup and define the needs for these two major endeavors.
Community Service/Giving
Visits to Bedford Hills Prison: Our desire to be of comfort in a world of pain leads us into prison, a place of sorrow and despair. We have partnered with Gethsemane Presbyterian Church on its visits to women in Bedford Hills Prison and Taconic Prison. The women we visit are participants in Gethsemane Church's "Project Connect", as they work to develop a life of spiritual health. The visits remaining in 2017 have been scheduled:
Saturday, June 17
Saturday, September 16
Saturday, December 2
One Great Hour of Sharing: The Whole World's Finest Hour
Presbyterian Disaster Assistance provides aid and shelter for those impacted by disaster: including food and education for refugees, and help to the National Evangelical Synod of Syria and Lebanon in order to rebuild homes in Homs, Syria, for those who long to restore the land they love.
Presbyterian Hunger Program engages sustainable agriculture and water projects to address long-term care of the earth and to end hunger and poverty for the most vulnerable.
Self-Development of People assists, through "Jobs Not Jails", over 7000 people with access to jobs and education as they establish new lives after prison, thus reducing the probability of repeat offenses.
Our gifts, our small sacrifices, mean life to many. Every hour of income that you share is truly One Great Hour.
You are invited to make a contribution to the church for Easter flowers in honor or in memory of a loved one. Please have your flower dedications in to the church office by Sunday, April 9, so they can be included in the Easter Sunday Order of Worship. Flower envelopes are available; please write names legibly.